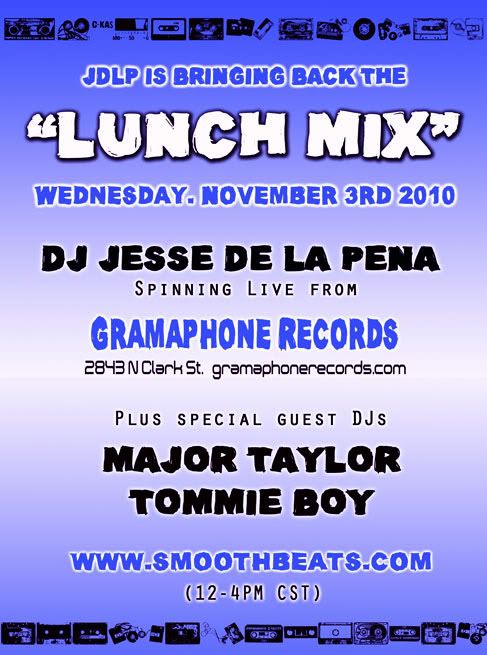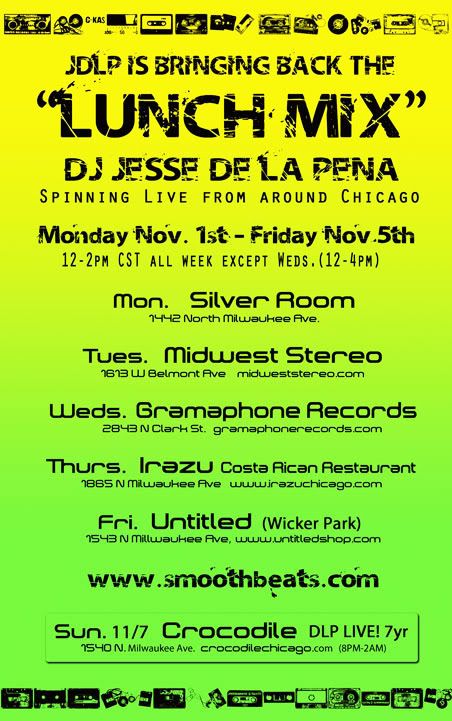 "Lucky # 7 De La Pena Live!Anniversary Party & Broadcasts"
DJ Jesse De La Pena is bringing back the Lunch Mix in honor the
7 Year Anniversary of the DELAPENA LIVE! Internet Radio show on www.smoothbeats.com
Tune in:
(Monday 11/1 – Friday 11/5) 12:00-2:00pm (Weds 12:00-4pm)
One week only.. JDLP will be broadcasting
live from various Chicago businesses.
Monday: Silver Room 442 North Milwaukee Avenue
(773) 278-7130 www.thesilverroom.com (12:00-2:00pm)
Special guest DJ Rude One
Tuesday: Midwest Stereo 1613 W Belmont Ave
(773) 929-5523 www.midweststereo.com (12:00-2:00pm)
Wednesday: Gramaphone Records
2843 N Clark St. (773) 472-3683 www.gramaphonerecords.com
Special guest DJs: Major Taylor & Tommie Boy (Extended set 12:00-4pm)
Thursday: Irazu Costa Rican Restaurant 1865 N Milwaukee Ave
(773) 252-5687 www.irazuchicago.com (12:00-2:00pm)
special guest DJ Gogo
Friday: Untitled Clothing store
(Wicker Park) 1543 N Millwaukee Ave,
(773) 342-0500 www.untitledshop.com (12:00-2:00pm)
**********************************************
Sunday, November 7th 2010
The "DELAPENA LIVE! LUCKY # 7 PARTY"

DJs: PNS, Major Taylor, Albert Phillips
Free Pizza, Limited edition Mix CDs
(Best of DLP LIVE! & the Story of the Sample" full recording),
Drink Specials & No Cover (8pm-2am) 21+
@ Crocodile 1540 N. Milwaukee Ave.
***********************************************
After this eventful week the DLP LIVE! broadcast will come to a close.
JDLP will be back from time to time for specials shows but
no longer every Wednesday. So let's go out with a bang!!!