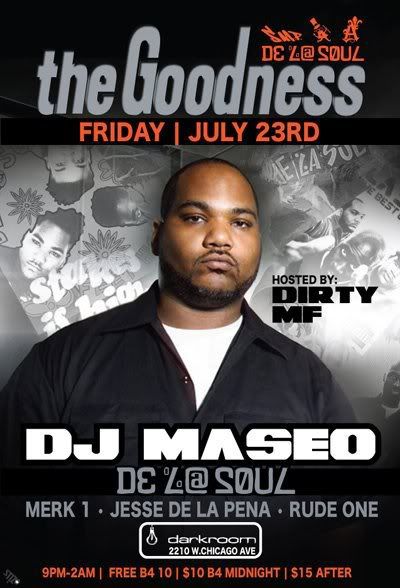 Photos by Alejandro Ayala
Renee Lost Boyz
Leflaur Leflah Eshkoshka Featuring OGC Heltah Skeltah
Day One * DITC
Halftime NaS
Dangerous MC'S ** Notorious B.I.G.
Track 18 ** Jay Dilla
Witness Dub ** Roots Manuva
Bad Intentions ** Dr Dre
Jeep ass (beatbox) *8 Masta Ace
Ebonics *8 Big L
3 Tha Hard Way Bahamadia
50 Years ** All Natural
Devil's Pie (Dirty) (Paul Nice ATCQ Jam Rmx) *** D'Angelo
Jam ** A Tribe Called Quest
Find A Way A Tribe Called Quest
My Mind Playin' Tricks on Me Geto Boys
Snoop Doggy Dogg - Gin and Juice Snoop Doggy Dogg - Gin and Juice
Vapors **8 Biz Markie
bigboi-andre3000-raekwon-royalflush (Clean) * bigboi-andre3000-raekwon
Big_Boi_-_Shutterbug Big Boi
Excursions * A Tribe Called Quest
I'm The Man *** Gang Starr
Let's Ride ** Q-Tip
All I Need (Intro) * Mary J Blige
I Need a Dollar * Aloe Blacc
Hold Tight ** Slum Village Feat. Q-Tip
Buck Em Down ** Black Moon
Grand Verbalizer, What Time Is It_ X Clan
Slow Down *** Brand Nubian
Call Me D-Nice ** D-Nice
Nobody beats the Biz ** Biz Markie
Paid in Full (Seven Minutes of Madness - The Coldcut Remix) Eric B. & Rakim
Where You Been *** Freeway
All nite long (inst) ** mary jane girls
Ain't No Fun (Dirty) * intro beat Snoop Dogg
Off The Books (into beat) Beatnuts
Ain't No Half Steppin 320 ** Big Daddy Kane
Love @ 1st Sight (Featuring Method Man) ** Mary J. Blige
Hot Sex A Tribe Called Quest
Sally Got A One Track Mind *** Diamond D & The Psychotic Neurotics
So Wat Cha Sayin' ** EPMD
Heaven And Hell Is On Earth * 20th Century Steel Band
Cher Chez La Ghost *** Ghost Face Killer
Dangerous (Soul Society Remix) ** queen beat Busta Rhymes
Block Party ** Chuck Brown ft DJ Kool
Lyte as a rock (House Mix) ** MC Lyte
The International Zone Coaster ** Leaders Of The New School
Treat 'Em Right * 320 Chubb Rock
I'll House You ** Jungle Brothers
Girl I'll House You (Rework) Throw at 2:02 ** Jungle Bros. Vs. Liquid Liquid
Groove Is In The Heart ** (original) Deee-Lite
Find A Way (Transition 130/ ) * Scottie B
Golddigger (remix) ** Diplo
Planet Rock (Pt. 1 And 2) *** Breakout
Tighten Up (album version) *** The Bamboos
Party Started *** Hypnotic Brass Ensemble
Alphabet Aerobics (The Cut Chemist 2 1/2 minute workout) * Blackalicious
T'Cha-T'Cha ** BETTER Boogie Down Productions
Hey Young World 12" ** Slick Rick
Xxplosive * Dr. Dre
A Day In The Life (featuring Brand Nubian) ** Diamond & The Psychotic Neurotics
Get 'em High-Dirty 12" Version * (Intro Beat) Kanye West ft Talib Kweli & Common
Dreams (Intro) * Biggie
Memory Lane Nas
Definition ** Black Star
Funky Enough 12" ** The D.O.C.
Get By (Clean) *** Talib Kweli
Love No Limit Rmx ** Mary J Blige
Love Is Stronger Than Snoop (Paul Nice Rmx)*** Sade
Get Money W/INTRO Junior Mafia
One More Chance (Remix) ** Biggie
Reminding Me (Of Sef) ** Common
(It's Not The Express) It's The J.B.'s Monaurail ** The J.B.'s
Tripping Out ** Curtis Mayfield
What'd I Say, Pts. I & 2 ** 256 Ray Charles
Close To Me * The Cure
Cecile (Punnany Rid) * Ms. Dynamite
Bashment Party
Gal pon the side
Champion Buju Banton
Heads High ** Mr. Vegas
Hot This Year Dirtsman
Dan Dadda (voc) ** Super Cat
Murder (What a judgement) (sole ver.) *** Jimmy
Ay Ay Ay(alotta girls) Sean Paul/tony touch
I Just Wanna Love U (Give It) dirty ** Jayz
Real Love (hiphop rmx) Biggie ** Mary J Blige
Take It Personal * Gang Starr
Slam w/ Intro ** Onyx
Superthug ** NORE
B.I.G. Schooly D beat Interlude ** Biggie
Jimmy Boogie Down Productions
Scenario rmx ** A Tribe Called Quest
Sucker M.C.'s (Krush Groove 1) * Run DMC
The Choice Is Yours 2 Intro beat ** Black Sheep
Uptown Anthem ** Naughty By Nature
I Know You Got Soul * Eric B. & Rakim
Nasty Boy (remix) *** Notorious BIG - Nasty Boy (remix)
Last night a dj saved my life ** Indeep
Ready Rock (1,2,3) Master J Master J
Din Daa Daa George Kranz
Let's Start The Dance (Rap Version) *** Hamilton Bohannon
Muesli ** Kinky Movement
Taxi Cab (Original Chunk a Bud Mix) ** Chunk A Bud
I'm Satisfied (The Ultra-Rare Funky 4/4 Mix) James Brown ** Scott K. & Cole Medina vs. James Brown
Magic Feet Mike dunn
Strings Of The Strings Of Life Derrick May
Grace Of God *** Machine
IF YOU REALLY LOVE ME ** STEVIE WONDER
I love music ** The O Jays
Sinnerman (Original) ** 192 Nina Simone